Made 4 Mungos : The Welsh Girl, The British Clothing Brand Donates....
November 10 2021 – Victoria Le Marquand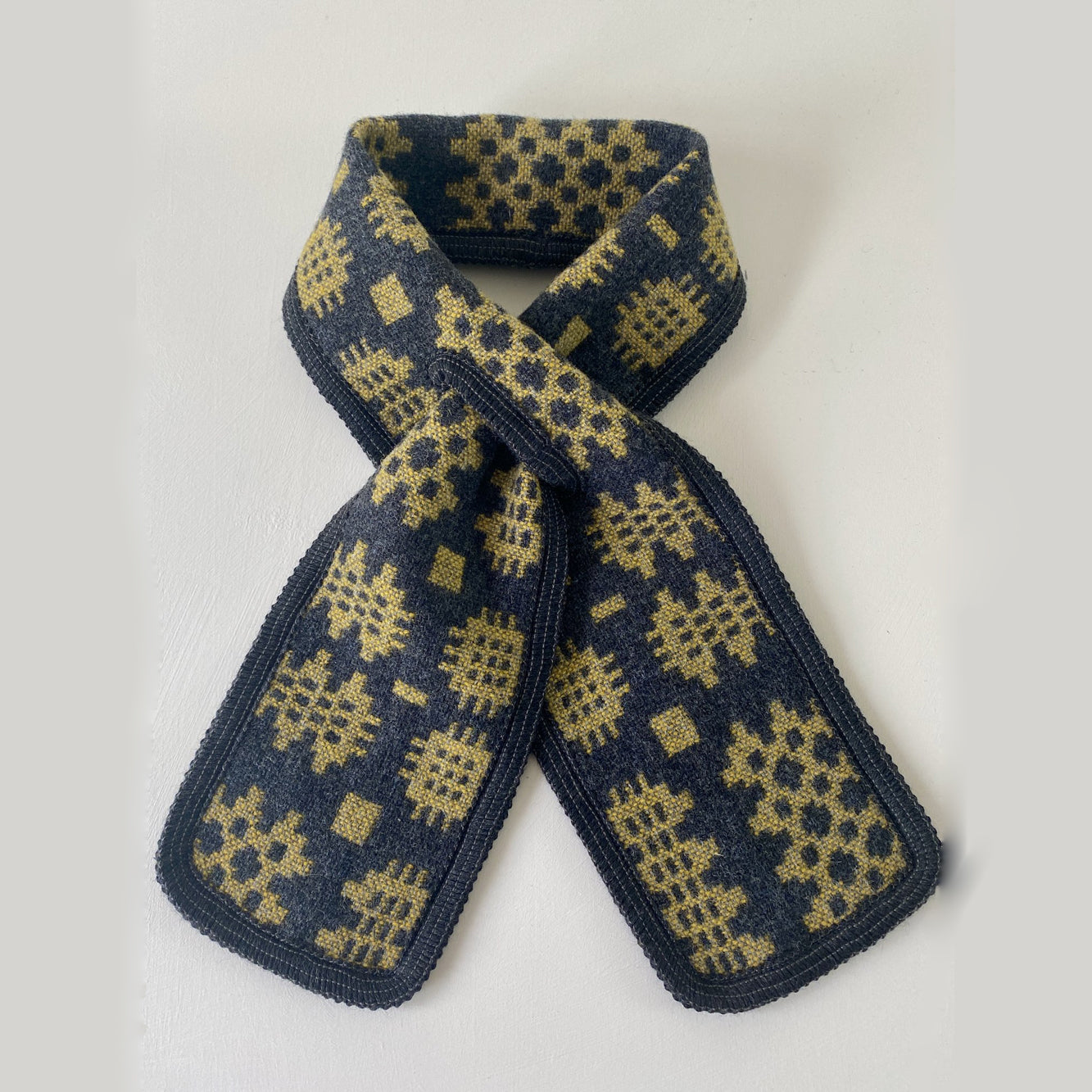 One of their beautiful handmade Slate & Marigold Coler Cwtch Scarves
After 25 years in the world of fashion and production in London, The Welsh Girl (Julie) returned to her homeland full time in 2015 to realise a long held dream – to pursue her love and passion for textiles, design and making. Having grown up surrounded by heritage Welsh weaves and saddened by the demise of the industry from when she was a child to the present day, She had this great nostalgic yearning to celebrate these amazing fabrics and bring them back to life in a form other than the iconic Welsh blanket.
Her influences come from a happy childhood growing up in the Black Mountains, an imagination that some would describe as kooky and skills passed down from her Nan and Mum who made her very first poncho – the start of her journey.
Why a poncho you might ask? Julie believe everyone should have a poncho. They are the ultimate in 'forever wear' – versatile, classic, timeless, simple, non restrictive, functional, comfortable, seasonless, stylish and fun. They serve you throughout your entire life and are probably the most versatile item of clothing in any wardrobe. She loves how people make them their own and wear them in different ways. They provide comfort, they are like a friend, they live alongside you, they travel with you, they become part of you, gathering stories and experiences along the way. They so often bring out the storyteller in people… invariably a happy trip down memory lane.
The Welsh Girl (TWG) pieces are made as limited editions. They are crafted from traditional Welsh tapestry – a double weave reversible cloth (so two colour ways in one) in pure soft new wool - woven on traditional looms in one of the few remaining mills in West Wales. Only small runs of cloth are produced, created in colour combinations unique to TWG. In addition to the ponchos there are other exclusive wares for the self and the home sharing the same creative ethos – high quality, handmade, versatile, sustainable, practical, beautiful items for man, woman and child. Sustainability, passion and provenance are at the core of what she does.
All her products are handmade at her studio in Hay-on-Wye and the business is now growing with a little help from some local makers too. The Welsh Girl also undertakes commissions.
Thanks so much for the support for the sale Welsh Girl. I'm so pleased with the beautiful Scarf Donation, Also lovely (and important) to have British companies uniting and supporting this sale. 
The St Mungos Online Sale starts on www.independentboutique.com on the 11th November and will run for ten days until the 21st November.
All profits will go to St Mungo's.
Thanks again for your support.
#made4mungos