Made 4 Mungos : Guava & Gold, The British Skincare Brand Donates....
November 09 2021 – Victoria Le Marquand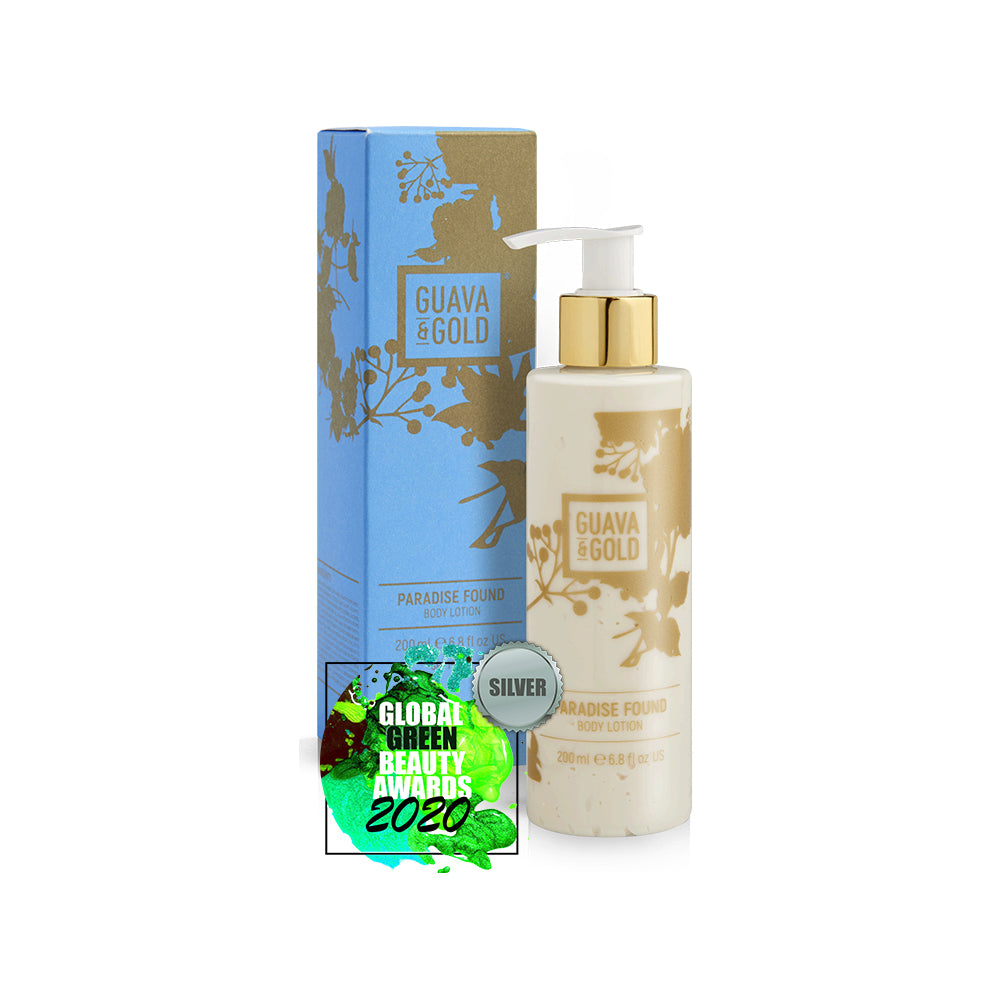 A bottle of their beautiful 
Paradise Found Body Lotion.
Enhanced with grapeseed and avocado oils and shea butter, this rich and soothing body lotion absorbs easily for well-hydrated, silky smooth skin.

A silver award winner in the Global Green Beauty Awards 2020 for best shea butter product.

Founder Clare Price, left her successful career as a barrister to launch the brand after 25 years of working in London.
Wanting a change she chose to take her creativity in a different direction and design Guava & Gold, a luxurious escape from everyday life. 
Her goal was to create an elegant, capsule collection with ethical credentials, inspired by the tropics and a desire to capture an exotic holiday in a bottle.
Drawing on the expertise and imagination of an international fine fragrance house, Guava & Gold use the distinctive scents of both fruits and flowers, including guava and cherimoya, fragrant pink magnolia, white floral facets of tuberose, sweet vanilla orchid and orange and plum blossom. Clare's aim was to create products that transport you to a moment of sheer bliss that can be revisited time and again.
To complement their fragrances, natural oils have been blended with botanical ingredients, specifically selected for the health of both your skin and hair and to enhance your overall personal wellbeing.
There's manuka oil, known for its anti-inflammatory and anti-bacterial properties, sweet almond oil that can boost collagen production in addition to keeping skin hydrated, grapeseed oil, a natural moisturiser helping to maintain soft, radiant skin and hair, plus the moisturising benefits of shea butter and vitamins. Combined to give you the best experience possible and designed to make a wonderful present or a perfect treat for you.
Guava & Gold is more than a luxury bath and body range, they aim to make you feel good about products you use whilst evoking the memory of far-flung shores. Ethically sourced botanicals and products that are presented in fully recyclable bottles and packaging. They have plans to move to bio-polymer bottles that are made using sugar cane extract. They also want to incorporate water-free products into the collection to reduce Guava & Gold's impact on the environment. Every order is sent out in the smallest packaging possible. 
Such a beautiful brand, love the ethos, love the products, love the ingredients and the packaging. We proudly stock Guava & Gold at IB.com.
Thanks so much for the support for the sale Guava & Gold, I'm so pleased with the beautiful Body Lotion Donation, Also lovely (and important) to have British companies uniting and supporting this sale. 
The St Mungos Online Sale starts on www.independentboutique.com on the 11th November and will run for ten days until the 21st November.
All profits will go to St Mungo's.
Thanks again for your support.
#made4mungos